Sixteen Horses: Synopsis
Near the dying English seaside town of Ilmarsh, local police detective Alec Nichols discovers sixteen horses' heads on a farm, each buried with a single eye facing the low winter sun. After forensic veterinarian Cooper Allen travels to the scene, the investigators soon uncover evidence of a chain of crimes in the community – disappearances, arson and mutilations – all culminating in the reveal of something deadly lurking in the ground itself.
In the dark days that follow, the town slips into panic and paranoia. Everything is not as it seems. Anyone could be a suspect. And as Cooper finds herself unable to leave town, Alec is stalked by an unseen threat. The two investigators race to uncover the truth behind these frightening and insidious mysteries – no matter the cost.
Sixteen Horses: Mr Frankowski's Thoughts
A sudden chill around you makes you shudder, so you check if any of the windows are open. They aren't. You go to turn up the heating, but the cold you feel doesn't go away. And this, my Faithful Reader, is when you know you have entered the unknown territory.
"Sixteen Horses" is a brilliant debut from Greg Buchanan that explores several themes which are ordinarily delivered in an easy to digest, almost sanitised way. Death, animal cruelty, depression, fear, anger – Buchanan doses them in their terrifying, graphic glory without being overt or vulgar. Despite being a slow-burn thriller, the tension builds up from the opening paragraphs and doesn't let go till the very end. It's like getting a slow drip of adrenaline intravenously; you feel the tension building up, and you wish for the big reveal to happen. You wait for an explosion that doesn't come. It leaves you in a limbo of emotional disarray until the final act arrives and pulls the rug from under your trembling feet.
The premise of Buchanans first (and judging by the current reception of the book not last) novel is unusual. The characters are not your run-of-the-mill gritty coppers or morally ambiguous ex-military with a ropey past. A DS Alec Nichols is a grief-stricken widower trying to navigate a somewhat complicated relationship with his son, and Dr Cooper Allen, the veterinary surgeon and extremely talented forensic investigator, is drawn into her personal darkness whilst desperatly trying to claw her way out of it.
Sixteen Horses is a fresh, very important voice in the genre. It delivers a compelling story with a literary zest of a seasoned storyteller. Still, most importantly, it encapsulates the high-concept thriller and a lyrically told, utterly captivating story of the human condition. It's heavily influenced by several philosophical notions that barge into the realms of ethics and morality, but also, the good and the evil. The language used in the book will not be everyone's cup of tea, though. Sixteen Horses is not a cosy, comforting bedtime read you pick up after a day of running after your kids or Zoom meetings. It gets heavy; it gets fragmented; it gets you by your throat. Buchanan's writing is rich and detailed and gorgeously wordy. And there's a lot of darkness.
About Author: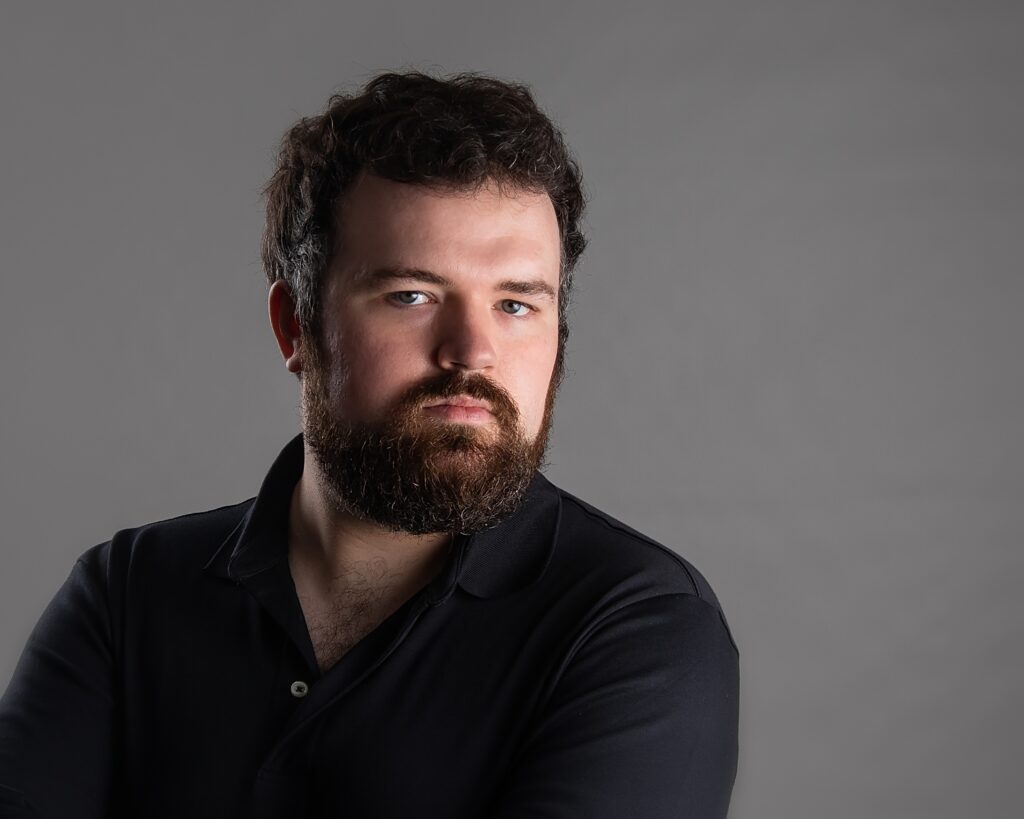 Greg Buchanan was born in 1989 and lives in the Scottish Borders. He studied English at the University of Cambridge and completed a PhD at King's College London in identification and ethics. He is a graduate of UEA's Creative Writing MA. SIXTEEN HORSES is his first novel.
A TV adaptation of SIXTEEN HORSES is being produced by Gaumont Television (Narcos, Tin Star) after a bidding war for the rights. The novel has sold in over seventeen international territories.
Twitter: @gregbuchanan
Instagram: @gregbuchananwriter