Man Down: Synopsis
Matt Spiller drives a souped-up taxi, suffers from SAD, and has a troublesome past.
It's Christmas Eve, and one of his fares is about to become extremely problematic.
Helen Spiller still loves her husband, but can no longer live with his moods.
She's a wonderful mum, with a screw quietly working loose in her head.
Now, their eldest daughter has hooked up with a very bad boyfriend.
Spiller thinks he has the skillset to handle all these problems.
He's dead wrong.
Man Down: Mr Frankowski's Thoughts
We all have stories to tell and stories we would like to be a part of. Often we have a scenario unfolding in our heads as we go through the most mundane things in our lives. A sink full of washing up becomes a story of an underdog Rocky-like character who makes his living working a dead-end job in a local grease spoon. Or a walk with a dog takes the shape of Tolkienesque adventure.
Mark Pepper's most recent offering published by Red Dog Press, Man Down, is a novel of many facets. It's an incredibly well-crafted thriller interwoven with drama and adorned with really dark humour. The story of Matt Spiller is an amalgamation of multiple storytelling styles – hectic and dynamic yet beautifully economic in its delivery. Pepper serves us a ride on a Pendolino; smooth and goddamn fast but hits like a freight train. With force and unadulterated impact of an unstoppable behemoth.
It's fun to read; there are no two ways about it. But it also asks fundamental questions we often skirt around. It gives you, my Faithful Reader, an insight into mens' mental health. Their fears and inadequacies. Their drive to deliver and be the best man they can be whilst exploring the self-sabotage and inability to ask for help. Pepper gives us a powerful story full of Tarantinoesque characters with a story both simple and involved, but what seems like an oxymoron makes this book so unique. With a pleiad of new persons entering the scene, we cannot see the direction the story is taking up until the big reveal banked for the third act. The payoff of the novel keeps one smiling and shaking one's head in disbelief, thinking "Pepper, you clever bastard!"
As I mentioned before, though, the economy of storytelling plays an important role in this novel. Despite being introduced to new characters every few chapters, we don't feel neither tired nor overwhelmed. The multiple arcs are resolved one by one in the most satisfying way and we don't get slapped with the face with cheap tricks of cliched writing, which often happens with stories as intricate as this. Mark Pepper's tight, screenwriting style and delivery are indeed what pushes the novel forward without letting it fall apart. The cinematic quality of Matt Spiller's world gives us enough to care about it, but doesn't drone to kills our natural curiosity of "what next".
Mark Pepper's 'Man Down' is a dish of insanity and I say it in the most positive way. The humour, the craziness of the situations Spiller keeps finding himself in, the moments of dismay and confusion – all of this makes Man Down a tremendous must-read.
That's it. And now, click here's to read an exclusive excerpt of 'Man Down' by Mark Pepper.

You can get it directly from Red Dog Press but it's available on Amazon, Kobo, Google Play Books and in all good bookstores.
About Author: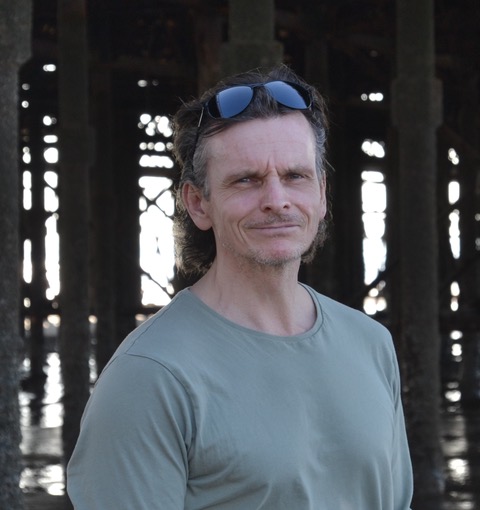 Mark lives in Manchester with his wife of 30 years, Jeannifer, and his daughter, Jade.
In his day job, Mark is an Intelligence Analyst for a financial regulator in Washington DC. He is a qualified secondary school drama teacher, and worked as an actor for fifteen years, having graduated from RADA in 1990.
His first two novels, The Short Cut and Man on a Murder Cycle, were published by Hodder & Stoughton, and his third, Veteran Avenue, originally published by Urbane and now by Red Dog Press. Veteran Avenue, is mainly set in LA, and is currently being developed as a TV series by the actor Warren Brown.
Find him on twitter @PepSixSix