The Curious Dispatch: Synopsis
Wedding bells are chiming in the idyllic, coastal town of Stonebridge. For Sam and Emily, it should be the happiest day of their lives. But, on the morning of the ceremony, the best man is found dead. The police quickly write his death off as a tragic accident, but something doesn't seem right to wedding guest and groomsman, Adam Whyte.
Armed with an encyclopedic, but ultimately ridiculous knowledge of television detective shows and an unwarranted confidence in his own abilities, Adam and his best friend (and willing Watson) Colin, set out to uncover what actually happened to Daniel Costello.
The Curious Dispatch: Mr Frankowski's Thoughts
Meet Adam and Colin. A couple of armchair sleuths, whose affinity for detective stories and murder mysteries makes them 'the experts' in the elusive art of crime detection. And… that's about it. But is it?
Adam and Colin are awkward, albeit lovable and slightly socially impaired self-confessed crime geeks. They binge on Sherlock and think there's nothing they don't know about solving crime. When one of the people from their social circle dies shortly before the wedding of a mutual friend in seemingly mundane circumstances, Adam puts on his woollen suit (because Sherlock has a deerstalker and every detective needs to have a signature piece of garment) and ropes in his best friend, Colin, to help him solve the death of universally disliked Daniel Costello. How hard could it be, right?
'The Curious Dispatch of Daniel Costello' is the first book in the tremendously entertaining Stonebridge Mysteries series by the author of A Wash of Black, Whispers in the Dark, and Roses for the Dead, Chris McDonald. And it's not only the very first cosy crime story I've read in years, but the very first cosy in the audio form I've ever experienced. The story is as captivating as it is entertaining. Adam and Colin are not only relatable but delightfully uncomplicated. Their 'lads next door' quality makes them unapologetically authentic. In fact, all characters created by McDonald are so 'everyday' that you could meet them at your local Co-op picking up a box of cereals. The world created by the author is tangible and oozes authenticity. The language, the locations, the characters, like atomic nuclei, all storytelling elements seamlessly slot together and tightly lock into an impenetrable and highly entertaining piece. The story takes a classic genre and enhances it by firmly planting it in the modern world.
The Curious Dispatch of Daniel Costello: The Audiobook
We all love a well-told story that will take us away from the mundane into magical. Especially if it's sprinkled with a healthy serving of authenticity.
And this, my Faithful Reader, has been achieved by the production team of Isis Audio in a twofold way. The narrator, Stephen Armstrong, delivers the story in a beautiful Irish accent. His delivery is soft and entertaining. He gave voices to our two sleuths that will stay with me forever. As for the second point: Stonebridge was modelled after Chris McDonald's hometown of Coleraine. Which incidentally Armstrong is also from! I do not know whether it was a complete coincidence or the fate conspired to bring Stephen's voice and Chris' words togehter. What I do know, however, is that it's a match made in heaven. Or perhaps a recording studio. The production value of 'The Curious Dispatch of Daniel Costello' is impeccable and I sincerely hope the sequels will follow it.  
Chris McDonald is a highly skilled writer who respects his readers with the economy of storytelling. He created a story that is supposed to entertain on a Sunday afternoon as you catch a final breather before going back on a hamster wheel of your existence on a Monday morning, or pop it on your phone and listen to it on your Saturday morning walk. It doesn't pretend to be something it's not. There's no verbose grandiosity or more profound, semi-philosophical takes on good and evil. We get served an enjoyable, escapist bit of crime story that could indeed happen in the back garden of your little parish.
Wholeheartedly recommended.
About Author: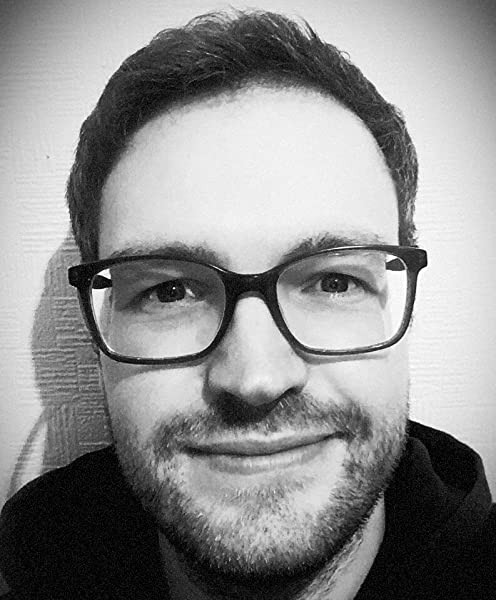 Chris McDonald grew up in Northern Ireland before settling in Manchester via Lancaster and London.
He is the author A Wash of Black, the first in the DI Erika Piper series, as well as the forthcoming second – Whispers In The Dark. He has also recently dabbled in writing cosy crimes, as a remedy for the darkness. The first in the Stonebridge Mysteries will be released in early 2021.
He is a full time teacher, husband, father to two beautiful girls and a regular voice on The Blood Brothers Podcast. He is a fan of 5-a-side football, heavy metal and dogs.
About Narrator:

Stephen Armstrong grew up near the north coast of Northern Ireland, in the university town of Coleraine – thirty miles east of Derry and sixty northwest of Belfast. His accent is therefore softer than the urban accents with which Northern Irish voices are most often associated. Seven years in Edinburgh, where Stephen studied English Language & Literature at the University of Edinburgh, added a hint of Scots.
He moved to London in 1992 to study drama at RADA. Since graduating Stephen have divided his time between acting, voice work and, lately, writing – he's currently finishing work on his first novel.