She's Mine: Synopsis
Her missing daughter was just the start of the nightmare
Twenty years ago, Christine Donovan took a call she should have ignored while shopping. In those few seconds while her back was turned, her toddler, Heidi, was kidnapped. She's never been seen again.
Despite having two other children with husband Greg, Christine remains guilt-stricken that her neglect caused her child to be stolen, while haunted by a secret that consumes her.
Just as she takes measures to finally heal, a note is posted through her door, with the words she has always longed to hear: Heidi isn't dead.
Christine might finally get the answers she craves – but what she doesn't know is that finding her daughter will uncover dark secrets close to home.
In seeking the truth, Christine might destroy everything that she loves … so how far is she willing to go to find Heidi?
She's Mine: Mr Frankowski's Thoughts
A loss of a child brings unpenetrable darkness. Unspoken and incomparable. Darkness, one rarely recovers from. Darkness, one often chooses not to recover from, embracing it as atonement and welcoming it as "this is my life now."
A.A. Chaudhuri is one of those tremendously talented authors who can write any genre and won't put a comma wrong. With her writing career spanning from sweet holiday reads to tense legal thrillers, it's little surprise that her most recent offering, a psychological thriller 'She's Mine', was not only exceptionally well received by fans but lauded by critics.
The story of a morally ambiguous mother losing a child in the most dramatic and unforeseen circumstances sounds like a nightmare. Christine's journey as once confident power-house of an independent woman to a husk of her former self allows you, my Faithful Reader, to decide how you are going to feel about her.
A.A. Chaudhuri's story of loss and betrayal brings to the fore several issues. First and foremost, the morality of crime and punishment. To me, the moral questions posed by this gripping thriller were as much a character of the story as Christine and the whole ensemble cast. They are as vital as they are unwelcomed and will make you, a reader, an active participant of the story. Those questions will invoke in you the need to judge the characters and you'll start placing yourself in the shoes of our main cast. The storytelling, gritty, grappling and tight, provides a mirror to your very own character and moral compass. The story is full of twists and turns, but that's not where its real impact comes from. It punches your gut from the inside of your head.
Chaudhuri created a narrative that doesn't allow you to root for a single character. You cannot identify with a single camp; the ebbs and flows of the story take you into those dark, uncomfortable places inside your mind and you cannot expect any real respite.
But in all its darkness and suspense, it's a compelling and entertaining read. 'She's Mine' is a well-plotted, masterfully delivered rollercoaster of a novel that is a stylistic far cry from anything A.A. Chaudhuri has written before. The tone is harsh and reproachful at times. The language is sharp and delivered with surgical precision for maximum impact. All that aid the impeccable character development and claustrophobic setting.
Absolutely recommended read.
About Author: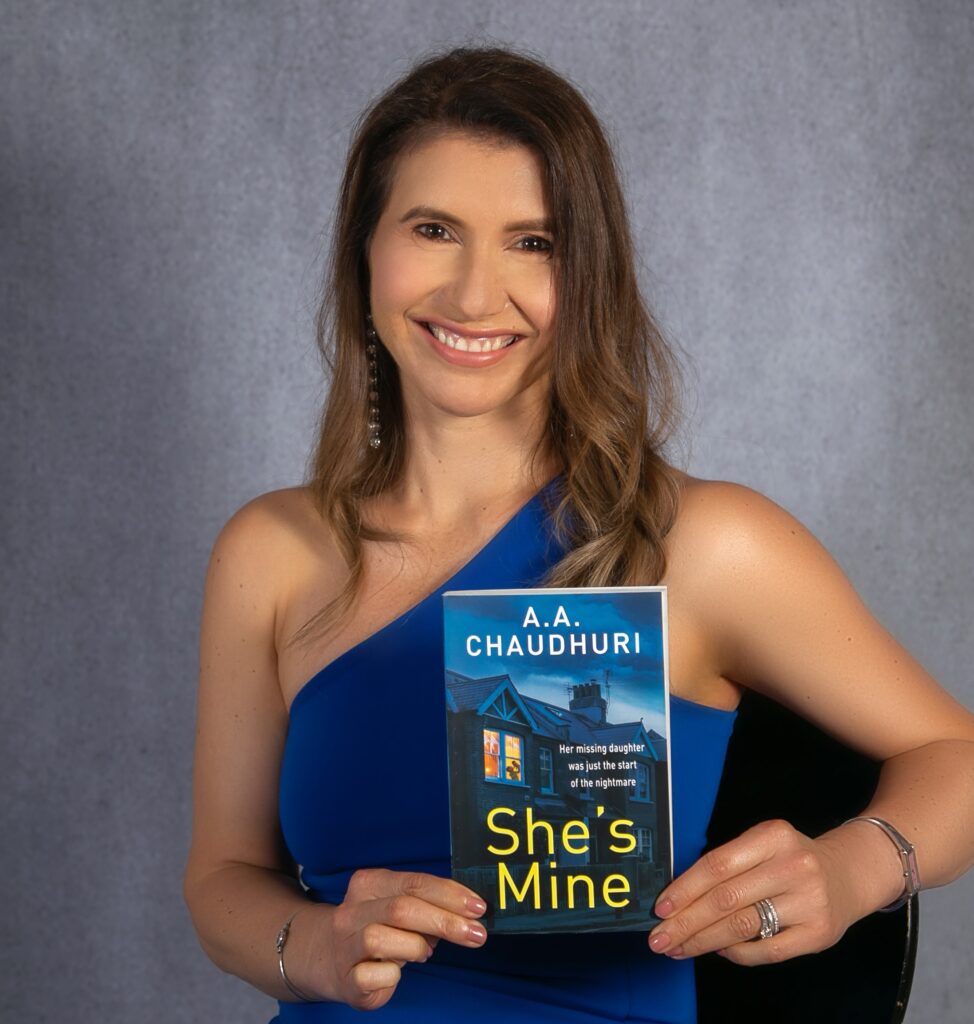 A. A. Chaudhuri is a former City lawyer. After gaining a degree in History at University College London, she later trained as a solicitor and worked for several major London law firms before leaving law to pursue her passion for writing. She is the author of The Scribe and The Abduction, books 1 and 2 of her Kramer & Carver legal thriller series featuring the feisty Maddy Kramer, also published in audio. Her first psychological thriller with Hera Books, She's Mine, will be published in 18th August 2021. Represented by Annette Crossland of A for Authors Literary Agency, she lives in Surrey with her family, and loves films, all things Italian and a good margarita!
#1 Amazon Australia Amateur Sleuth Mysteries (Aug '19); #1 Amazon Canada Women Sleuth Mysteries; (Aug '19) top 10 Amazon UK Legal crime thrillers (Aug '19); #1 Amazon Australia Legal Thrillers (November '19)
Find more info at:
https://www.facebook.com/AAChaudhuri/